cosmocard®
More Customers
More Sales
For a long time now, we have been represented with our terminals at lots of prominent locations in Germany and Europe. For example, we have site operators at the Berlin Gedächtniskirche (memorial church), in Usedom, at the Timmendorfer Strand (Timmendorf Beach), on the island of Rügen, at Schloss Neuschwanstein (Neuschwanstein Castle). But also in London, Amsterdam, on Ibiza and at lots of other tourist hot spots, young and old are enjoying our products. Our successful operators are enthusiastic about cosmocard®.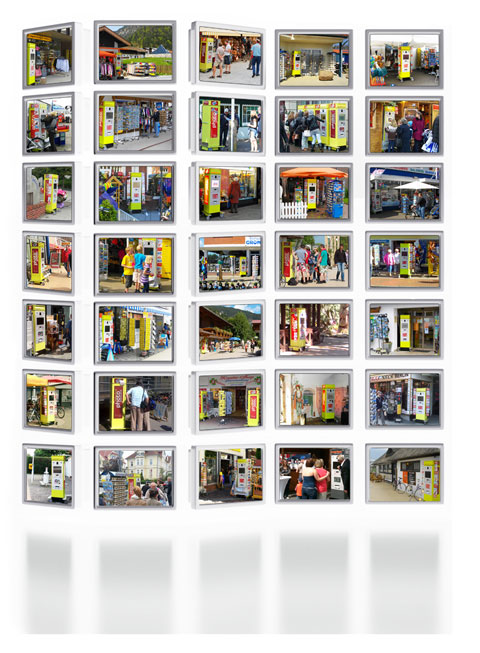 The cosmocard®- terminal really is a great enrichment for my remaining range of products. Thanks to the simple menu navigation, my customers are able to create their postcards on their own and pay directly at the terminal!
-Rudolf Kaires, Unter den Linden, Berlin
The cosmocard®-terminal is the customer magnet per se for our shop and we are pleased about the regular earnings.
-Mathias Fischer, Gedächtniskirche, Berlin
I took notice of the cosmocard®-terminal on holiday and immediately thought about incorporating it in our photo exhibition. It is the counterpart of our instant picture vendor machine from the 19th century. Our visitors have immediately been interested in cosmocard®.
-Dr. Cornelia Kemp, Deutsches Museum, München
Through the cosmocard®-terminal, my shop clearly distinguishes itself from the other souvenir shops. My customers love designing their own postcards and have a lot of fun in doing so!
-Mario Grabowski, Hafen Harlesiel