Make your Fair Stand/Event ...
as successful
as never before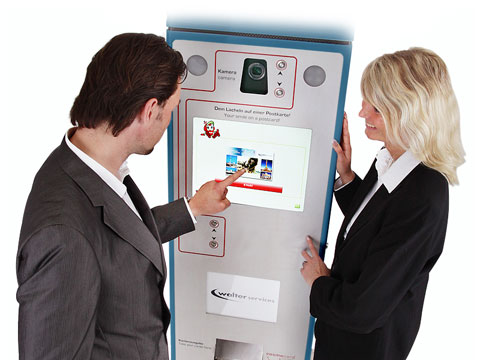 Event in an Event
Offer your guests personal photo postcards with the motifs of your event, your company logo as well as original messages of greeting.
cosmocard® increases your fair stand's attractiveness as a crowd puller
Fun and entertainment for your guests through interactive creation of personal photo postcards
Original souvenir to a unique trade experience
Free advertising for your brand through enthusiastic fair guests who will love to show and send your original photo postcards to friends and colleagues
Effective post-event communication through the usage of the customer data generated at the terminal.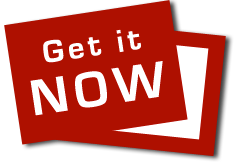 Request an offer
Ask us for an offer without obligation for your fair / your event
Individual design
We would love to adapt the cosmocard®-event-terminal and the cards to your individual needs:
Colour selection of the terminal according to your wishes
Logo, corporate design and brand message appear on the photo postcard created by the guest
Postcard motifs and messages of greeting coordinated especially to your event
The terminal screen can be used by means of a slideshow or as part of the application for your advertising
Various additional components are available for your very personal advertising message (e.g. side advertising windows)..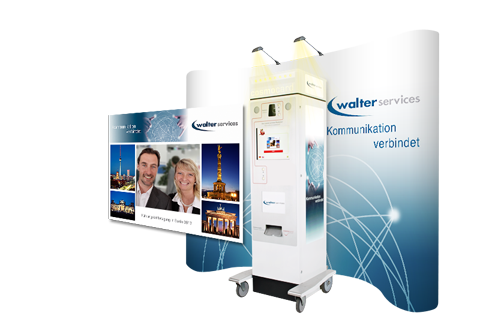 We offer our cosmocard®-event-terminal without any extra charges together with our cosmocard®-pop up display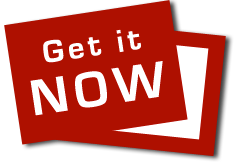 Free offer
Ask us for a free individual sample of the terminal and the cards with your logo and corporate design
Ideal advertising medium
Emotional give-away and efficient advertising medium
Interactive fun and welcome live atmosphere
Your message will be connected with personal memories of your fair or event
High number of contacts, enthusiastic multipliers of your brand message People love to take postcards with them, show them to others or send them
Efficient customer retention with long-term effect through the high experience value of cosmocard®.
cross-Media
cosmocard® enables the cross-media networking of your advertising messages:
Email-addresses of your guests can be collected before printing the cards at the terminal
Upload of the created cards on Facebook, for example
Effective post-event communication becomes possible.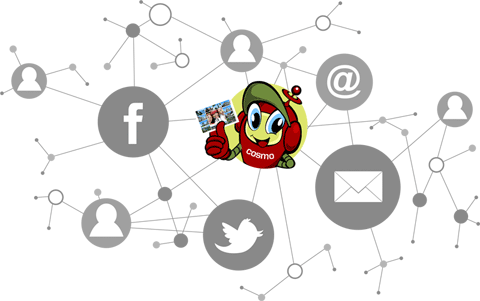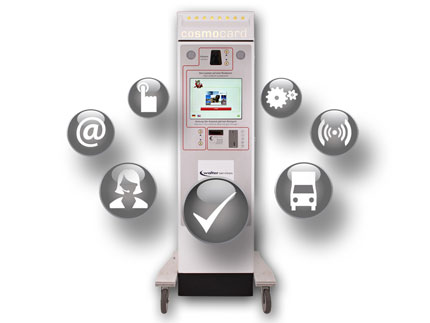 Our Service
We take care of everything! We prepare the photo postcards for the terminal in advance completely according to your wishes with your corporate design and with our motifs, logos and messages of greeting.
As a rule, we deliver the terminal on the day of the fair or event. We position the machine for you, show you how simple the operation is and – off we go!
Provision of sufficient consumables (photo paper and ink) for the printing of the cards (1 unit = 600 postcards)
Online monitoring of all functions of your terminal
Service support.